Learning Support Spring Term Round Up
We have had a brilliant spring term in Learning Support, full of fun, creativity and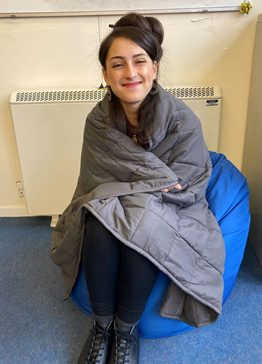 hard work from our fabulous students.
Unfortunately, this is also the last term for one of our amazing LSAs, Atena, who is leaving us to go travelling. Here she is tucked up under our weighted blanket in Learning Support.
We hope you enjoy your adventures, Atena - we will all miss you a lot!
Our Sixth Form Spectrum Society has been discussing many interesting topics this term, such as representation in TV and films. The club has also been working on a presentation for younger years about Neurodiversity which we are excited to share with students soon.
Leia 9C and Suni 8T have been showing extraordinary commitment and hard work in rehearsals for the play, 'Women of Troy'. They created some brilliant movements on the theme of war which the full cast will be doing in choreographed sections of the play. Leia and Suni always give their best effort and have shown themselves to be kind, generous and confident members of the cast. Well done Leia and Suni!
We would like to share with you the work of some of our wonderful students. Here are some Haikus written by Year 7s. Brilliant work Frankie, Zeta and Sumaya!
Fire - Frankie 7R
Fire. Beautiful, fierce
It never stops to wonder
It's death-defying.
The Water Ripples - Zeta 7T
The water ripples
I look around, see colours
And the pink blossoms.
Pink Flowers - Sumaya 7R
Loads of pink flowers
Blooming bright pink flowers blow
Bright blue sky, sunrise.
Finally, for some great Easter reading, here is the opening few paragraphs of Shyanne 9M's novel. It is part of a wider fantasy series Shyanne is writing called 'The Euphoria Decades'. We are really excited to share with you this first look at Shyanne's book, and look forward to reading the full novel once it is ready. Well done Shyanne!
'The Thundershields and the Storm of Annihilation' by S. K. Anderson - Part 1
Elliott Jean Pipper was an awkward, clumsy but happy-go-lucky man from Britain. Elliott has fair skin, an oval shaped head and a long nose, a skinny build, plump lips, messy blonde hair, hazel eyes, an average height and square glasses.
He was putting on his long olive-green, silver buttoned trench coat and a high neck black sweater along with maroon-coloured trousers, and long black boots. He put on his blue coloured face mask and walked outside into the autumn-like atmosphere.
The leaf's falling on the concrete, the sound of traffic and the smell of fresh air, the sound of people chatting. Elliott sat on a nearby bench looking at pictures on his phone. "Elliott!?" a voice spoke from not so far away. Elliott looked at someone walking towards him. He took off his mask and smiled. "Rue?" Elliott said as he got up from his seat.
We hope all our students have a well deserved break. We look forward to sharing more student success stories next term!