Photography Department
What an absolute pleasure it was to welcome Cian Oba Smith back to the Photography Department this week.
Cian was a student at CSG 2010 to 2012 before heading off to study a degree in the subject at UWE. He discussed with the Y13 students one of the many projects he undertook during his degree, an assignment photographing a small Islamic community in Iceland, a project that revealed itself when the undergraduate students were asked to write up a wish list of places they would like to photograph, Cian wrote down Iceland, they were then asked by the tutor to make the 'dream' a reality!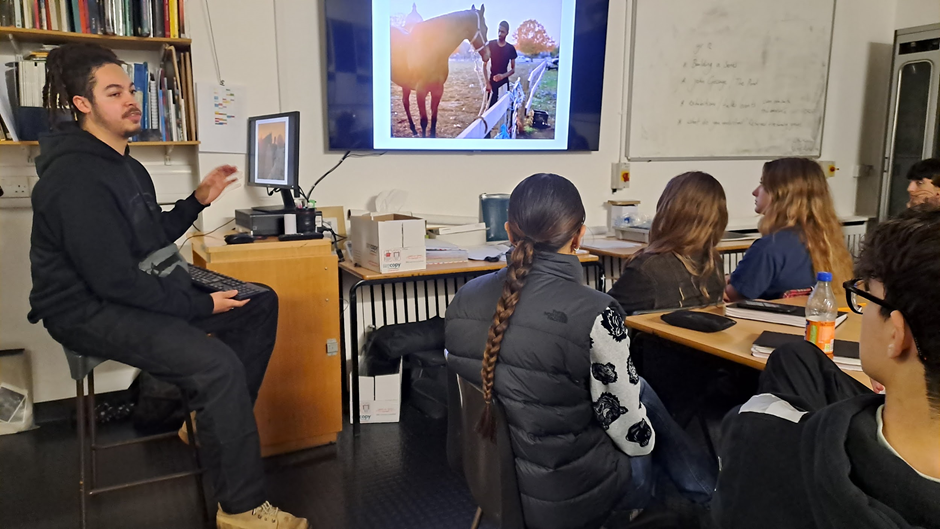 After graduation, he assisted several photographers in London including Zed Nelson. Over the past decade he has pursued personal projects (Concrete Horsemen, Shanzhai, Andover and Six Acres to name a few) that have led him to advertising campaigns and more recently as stills photographer for Netflix commissioned films. Students asked pertinent questions regarding how to approach strangers for meaningful portraits? How to make a career out of the subject? And is university still a viable route into industry?
Cian currently has work on display at The Taylor Wessing Portrait Awards, that has been selected from his personal project captured in London on the impact of knife crime. It was wonderfully engaging to see and hear all that Cian has achieved and I have no doubt he has inspired the Y13s that photography is an exciting career path to pursue.
Ms Miller
Photography