Assembly Speaker - 29 June
Marie Cesbron-Bloomberg
This week's assembly was led by Marie Cesbron-Bloomberg about why it's absolutely fine to be unsure of what profession you'd like to partake in. This assembly consisted of Marie's potted professional life which she structured across 3 different phases, 4 different professions, 3 different cities and 2 different university degrees.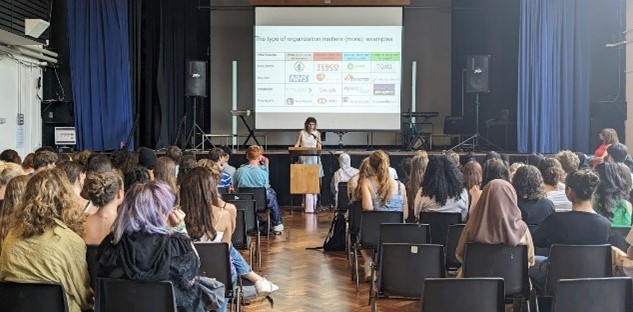 The first phase was: Conformity
Marie's family had previously worked in business and so she herself began to study business in Paris. The company she went on to work for after her degree was L'oreal) which gave her the opportunity to acquire very useful skills. The company was an international organisation and she later decided she wanted to work in the New York office. However, as time went by, she questioned what would be the most fulfilling profession for her and began to figure out what she really wanted to do and this took her to Phase 2 of her professional journey.
The second phase was: Opening
Maria continued to think about what her real passions were, and she then decided to go back to Paris after personal advancements in her life - she got married and had 2 children. However, Marie still wanted to find what she truly wanted to do and so decided to go back to university. She didn't follow the conventional life journey i.e. going to university, studying, having a family and then continuing to work in the same industry until retirement. Marie went onto get a degree in psychology, which was really useful for her in understanding human psychology and the choices people make which she wanted to use in her professional life. However, she didn't want to spend her entire career working in loreal. Eventually, after moving to London with her family, Marie decided to work for herself as a consultant in Innovation. This was Marie's true passion.
The third phase was: Independence
Marie used her experience and network to set up her own company which enables her to work with companies looking at how they will meet the needs of a changing marketplace by using innovate, change in order to meet the challenges of a changing market place by innovating. This gave her freedom on what to work on and who to work with. She began to partner with an organisation called Big Bloom which worked with NGOs to organise large interactive workshops to solve problems that these charities could not solve alone. This enabled her to have a lot of diversity in her work while also doing something meaningful.
Marie's story is important, particularly for younger students as it shows that your career doesn't have to be a completely set path and that there can be changes along the way.
An important idea within Marie's assembly was that your true profession is a journey. It's ok to be unsure of your profession and university degrees don't always correlate to your future job.
Marie used the term "Ikigai" which is a Japanese concept about the meaning of being. This allows individuals to find a profession that's most fulfilling for them, which consists of 4 factors that should be taken into consideration. These are: what you love, what you're good at, what you can be paid for and what the world needs more of.
To find your most fulfilling profession you need to find the sweet spot incorporating all these factors to create a rewarding career. Marie also discussed the 17 UN sustainable goals to help fuel ideas on what the world needs more of, allowing students to find their most fulfilling career.
Marie also pointed out the 4 S's which are factors that should be taken into consideration when deciding what company or business you'd like to work for, these are the two sectors Sector industry and Sector purpose, size and sustainability. An important statistic from Marie's assembly was that 83% of British people work for a company or business. This is why Marie stressed the importance of business throughout her assembly to highlight that working for a company can be presented in a variety of different ways. She outlined that companies can be about making the most profits or about providing a public benefit, like NGOs but, there is now an exciting new category i.e. companies that make profits but that donate a percentage of those profits for the public good.
To conclude, Marie provided a very interesting and insightful presentation on the future world of work for young students, and underlined for us that there is no time limit to finding what you are passionate about.
Lara - Sixth Form Senior Prefect