Science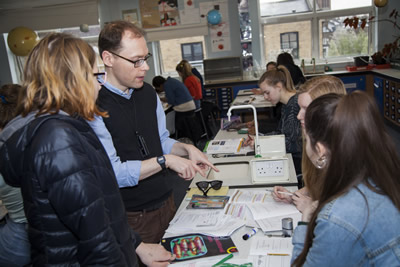 The Science Department believes that science gives young people necessary life-long skills as it encourages them to think, analyse and evaluate information. We aim to show the importance and relevance of science in everyday life.
At Key Stage 3, the principal focus of science teaching is to develop a deeper understanding of a range of scientific ideas in the subject disciplines of biology, chemistry and physics. Students should begin to see the connections between these subject areas and become aware of some of the big ideas underpinning scientific knowledge and understanding.
Students also develop key scientific skills throughout the course. They will be taught about scientific attitudes, experimental skills and investigations, analysis and evaluation, and measurement. Students will develop their use of scientific vocabulary, including the use of scientific nomenclature and units and mathematical equations. They will be shown how scientific ideas have developed historically as well as reflecting on modern developments in science.
In year 7, students are taught in their tutor groups. In year 8 students are grouped in their maths sets. Assessment is continuous through class and homework assignments including assessed tasks and tests at the end of each unit. In year 7 and year 8 students sit an exam towards the end of the school year.
Students in Year 9 will begin an introduction to the GCSE course. They will partially cover Biology, Chemistry and Physics topics which will be re-visited at Key Stage 4.
The year 9 classes are divided into 5 groups which are split into two ability bands. There are 3 higher ability groups and 2 lower ability groups. At key points in the year students may move science group to make sure they are progressing at a level appropriate for them.
All students complete the same core topics whether they choose the GCSE Combined Science course or the Triple Science course. Assessment is continuous through class and homework assignments with tests at the end of each unit. There will be a final exam towards the end of the year testing all the content covered.
There is key stage 3 homework club every week where students can access extra help and support.
At Key Stage 4, there are two different programmes for science in year 10 and 11. There will be one group of students who may opt to take triple science which is three science GCSEs (Biology GCSE, Chemistry GCSE and Physics GCSE). Four science groups will take GCSE Combined science (AQA Trilogy). This double award is equivalent to two GCSEs.
At Key Stage 5 students can chose to study a range of A-levels including Biology, Chemistry, Physics and Psychology A-level.
We aim to give all students a wide range of opportunities to further their interests in science and seek to achieve this through a variety of activities including STEM events, cross-curricular activities and demonstrations by outside visitors. We are a member of the Chrysalis Partnership which allows our students to access a range of enrichment activities run by Highgate School.
Curriculum Information:
Useful Links:
www.scool.co.uk , www.bbc.co.uk/schools
KS3: http://inteleducationresources.intel.co.uk/keystage3.aspx?id=80
KS4: http://inteleducationresources.intel.co.uk/keystage4.aspx?id=314