Exam Results 2015
Excellent GCSE results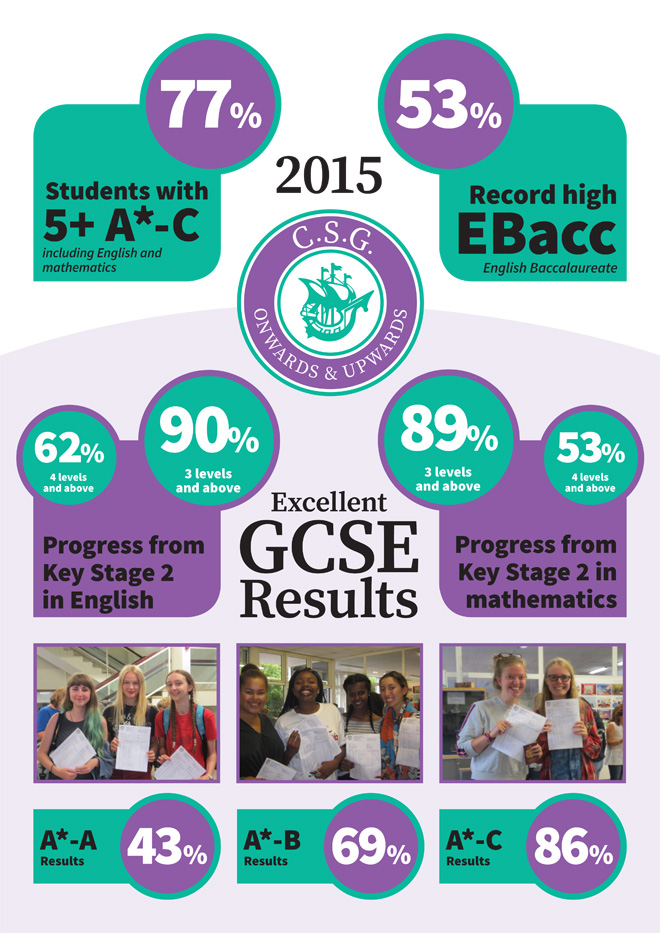 - 77% achieved five or more A* - C grades including English and Mathematics (2014 - 76%)
- 53% achieved the English Baccalaureate – a record high for the school.
- 80% achieved five or more A* - C grades in five or more GCSE subjects
We are particularly delighted with the following outcomes for our students:
43% of all results were graded at the highest level A* - A.
Individual successes:
A record total of 21 students achieved only A* - A grades across all their subjects. Three students achieved exclusively A* grades.
Progress
The progress measure tells you how well students have done in this school in relation to their starting point.
English
90% of students made at least expected progress (2014 – 80% CSG, 70% national)
62% of students made more than expected progress (2014 – 55% CSG, 32% national)
Mathematics
89% of students made at least expected progress (2014 – 78% CSG, 65% national)
53% of students made more than expected progress (2014 – 46% CSG, 29% national)
Chair of Governors Janet Pope congratulated the school:
'We are absolutely delighted that our girls continue to show how hard work, great teachers and supportive parents can produce such outstanding results. And what's really remarkable this year is that results in English and Mathematics, which are required for students' next steps in education, are both so strong.'
Another outstanding set of A level results!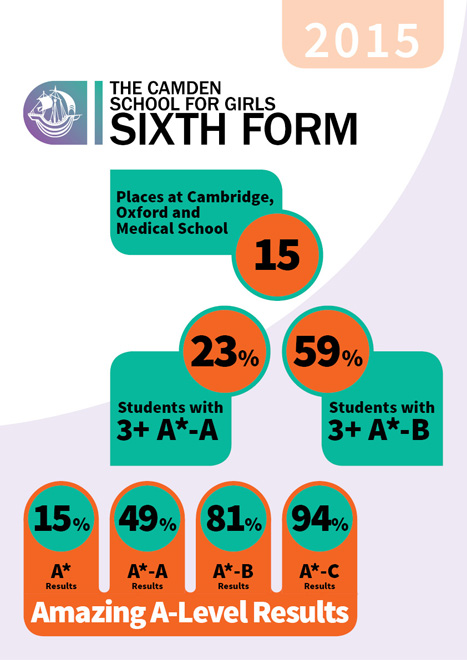 - Nearly half of all grades are A* - A at 49%
- 94% of all grades at A* - C
Once again, our Sixth Form students have out-performed students nationally by a very significant margin.
Percentage A* 15% (National 8.2%)

Percentage A* - A 49% (National 25.9%)

Percentage A* - B 81%

Percentage A* - C 94%

Percentage A* - E 100%
In addition, we are delighted with the following statistics:
Students with 3+ A* 6

Students with 3+ A* - A 51
Fifteen students celebrate Cambridge, Oxford and medical school success.
- We are thrilled that eleven students have won places at Cambridge or Oxford, one to study medicine.
- A further four students are taking up places in prestigious universities to study medicine.
Twenty-three students have places at Art School.
Students have achieved excellent results in art and have been inspired to continue their studies at degree level in the country's most prestigious colleges.
These are exceptionally strong results, reflecting extremely hard work by students and teachers, and consistent support from parents. Our students are ambitious and determined to achieve to the best of their ability, and these grades demonstrate that their effort and dedication over challenging two year courses have been worthwhile.
We have a very diverse sixth form, with 24% of our students speaking English as an additional language, and 24% having Special Educational Needs. 8% are eligible for Free School Meals.
Congratulations to all!
Elizabeth Kitcatt