Canteen
Since taking over our own meal and snack provision in 2006 innovation has been the key word. Many changes have been put into place with discussion and backing from the school council.
Have a look at our weekly
menu below.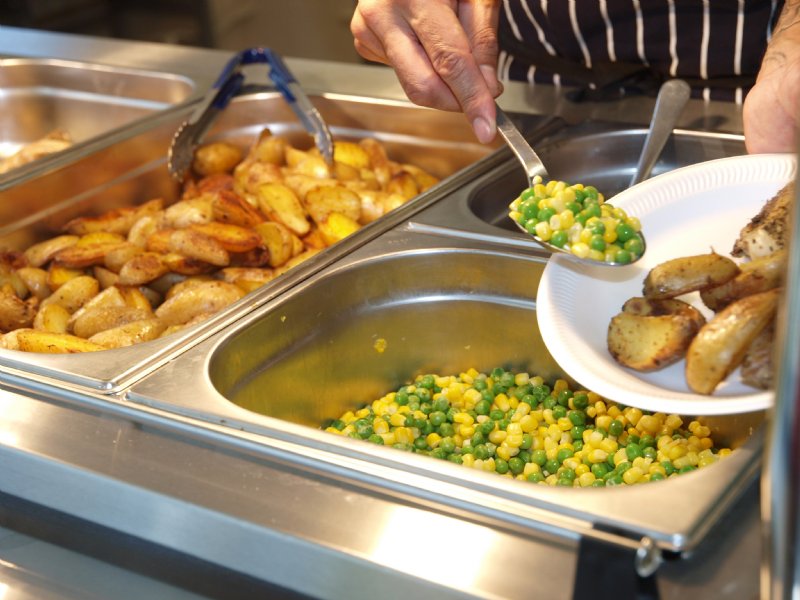 Table salt is no longer available
Crisps and chips are not on sale at lunch time
Only free range eggs are used for cooking
Free range and organic produce is used as often as possible
Seasonal vegetables are always used as against produce with high transport miles
All meals offer a balanced nutritional content
Soft drinks machines are banned
Extra water fountains have been installed
Local suppliers are used as often as possible
Prices are checked against Tesco – across the road – to give the canteen attractive prices
Skimmed and semi skimmed milk is always purchased
Fresh salads and fruit are available every lunchtime, summer and winter
There is always a vegetarian option available.
Over the next few months school meals payments will transfer to ParentPay in an attempt to remove all cash and cheques from the school. Parents will need to activate their account to enable them to pay for snacks and meals purchased through the school. Even though pupils may be entitled to free school meals parents still need to activate their account. Registration letters were sent home at the beginning of this term. Copies can be obtained from student services or the finance department.
Please register as soon as possible https://www.parentpay.com/
Canteen Menu Week 1:
Main Course
Main Course Vegetarian
Dessert
Fresh Fruit
Monday
Bean Wrap
Roast Potatoes
Mixed Leaf Salad

Tomato & Basil Pasta Bake
Salad

Iced Sponge & Custard
Fresh Fruit
Tuesday
Beef Lasagne
Garlic Bread
Mixed Leaf Salad
Quorn Chillie
Rice
Mixed Leaf Salad
Toffee Apple Crumble
&
Custard
Fresh Fruit
Wednesday
Lemon Roast Chicken
Crispy Roast Potatoes
Peas
Spicy Vegetables with
Lemon Couscous
Mixed Leaf Salad
Chocolate Sponge
&
Chocolate Sauce
Fresh Fruit
Thursday
Beef Stew in Yorkshire Pudding
Roast Potatoes
Green Beans
Homemade Vegetable Pizza
Potato Wedges
Mixed Leaf Salad
Fruit Sponge
&
Custard
Fresh Fruit
Friday
Homemade Chipshop Fish
Potato Wedges
Mixed Leaf Salad
Vegetable Pasta
Garlic Bread
Mixed Leaf Salad
Caramel Tart
&
Custard
Fresh Fruit
Canteen Menu Week 2:
Main Course
Main Course Vegetarian
Dessert
Fresh Fruit
Monday
Moroccan Vegetables
Couscous
Mixed Leaf Salad

Tomato and Basil Quiche
New Potatoes
Mixed Leaf Salad

Fruit Flapjack
&
Vanilla Sauce
Fresh Fruit
Tuesday
Sausage and Mash
Real Baked Beans
Mixed Leaf Salad
Vegetable Lasagne
Garlic Bread
Mixed Leaf Salad
Ginger Sponge
&
Lemon Sauce
Fresh Fruit
Wednesday
Lemon Roast Chicken
Crispy Roast Potatoes
Peas
Quorn Chillie
Rice
Mixed Leaf Salad
Hot Chocolate Fudge
Cake
Fresh Fruit
Thursday
Chicken Curry
Rice
Mixed Leaf Salad
Roasted Vegetable Tart
New Potatoes
Mixed Leaf Salad
Fruit Crumble
&
Custard
Fresh Fruit
Friday
Homemade Chipshop Fish
Potato Wedges
Mixed Leaf Salad
Pasta Bake
Garlic Bread
Mixed Leaf Salad
Caramel Tart
&
Custard
Fresh Fruit
Canteen Menu Week 3:
Main Course
Main Course Vegetarian
Dessert
Fresh Fruit
Monday
Quorn & Vegetable
Couscous

Vegetable & Tomato Pasta
Garlic Bread
Mixed Leaf Salad

Iced Sponge & Custard
Fresh Fruit
Tuesday
Chicken Curry
Rice
Mixed Leaf Salad
Mexican Bean Wrap
Cucumber & Mint Salad
Mixed Leaf Salad
Chocolate Brownie
&
Chocolate Sauce
Fresh Fruit
Wednesday
Homemade Vegetable Pizza
Potato Wedges
Mixed Leaf Salad
Tuna Arrabiatta with
Pasta Penne
Mixed Leaf Salad
Jam Roly Poly
Fresh Fruit
Thursday
Jerk Chicken
Rice & Peas
Mixed Leaf Salad
Spinach & Feta Pie
Crispy Roast Potatoes
Mixed Leaf Salad
Fresh Fruit Salad
&
Custard
Fresh Fruit
Friday
Homemade Chipshop Fish
Potato Wedges
Mixed Leaf Salad
Pasta Bake
Garlic Bread
Mixed Leaf Salad
Caramel Tart
&
Custard
Fresh Fruit